---
Go Green (Or Any Colour You Like) With China Mugs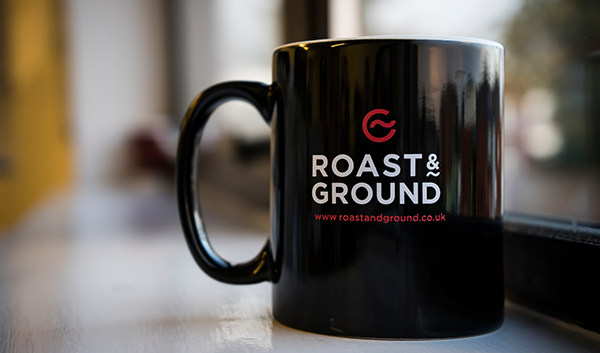 When it comes to mugs, re-use is way better than recycling. But there's no need to compromise on the professional look of your beverage holders, we now offer stylish Roast & Ground mugs from only £3.75 per mug. Mugs are available to buy here.
We can also personalise our mugs with your company logo and brand colours.
Get in touch and let's get creative - email us on hello@roastandground.co.uk or call James on 020 3019 4036.
---
Our Packaging is Green. And our Crate Deliveries are Even Greener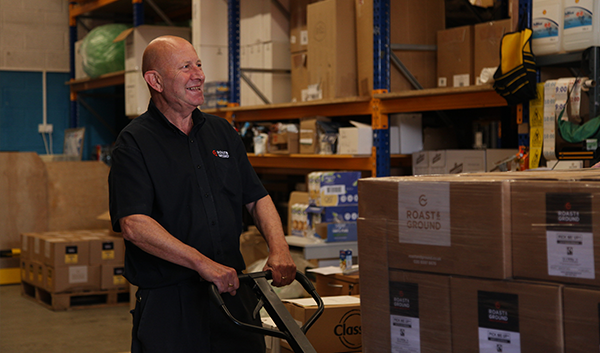 All our Roast & Ground delivery boxes are made from at least 70% recycled material and are also fully recyclable. But we can always do better.
For some of our customers who have suitable storage, crate deliveries can cut out the boxes altogether.
Sound interesting? Find out more by emailing James on james.hutchison@roastandground.co.uk (we may be restricted to specific delivery days for this service).
---
Hot New Arrival… 50:50 Half-Caff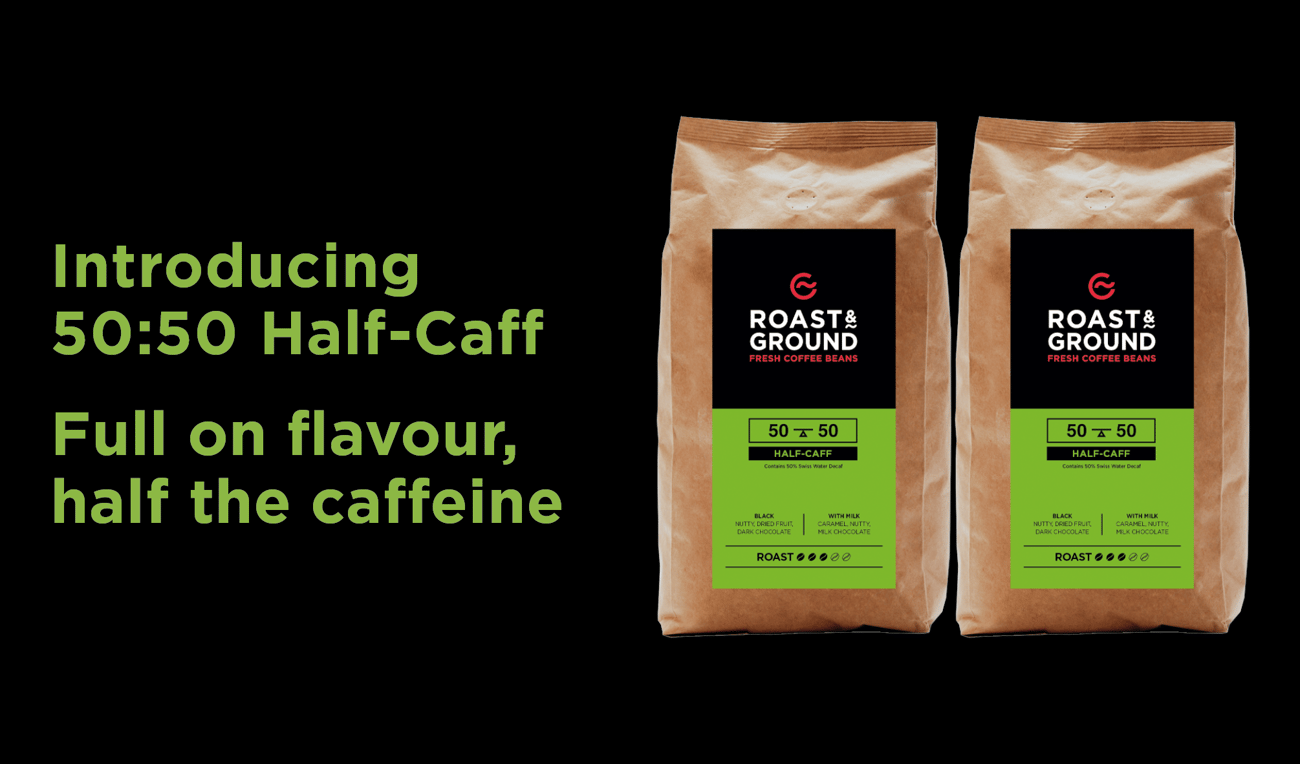 More and more of our clients are choosing twin grinder machines so their workers always have the choice between two coffees. Usually this keeps both the regular coffee drinkers happy, as well as those who prefer our Swiss Water Decaf.
But what if there's only one or two decaf drinkers, in your office?
If there's too few decaffers to justify your second grinder being filled with decaf, we've got just the solutions you need.
You could keep your decaf drinkers happy with our Decaf Espresso Double Shot Sachets, a 100% Arabica Brazilian coffee. Alternatively, if your machine has instant options, why not try Nescafé Gold Blend Decaf vending coffee? A smooth, rich instant decaf option that can be run straight from your machine with a push of a button.
Freeing up a grinder opens up a world of delicious possibilities. Another from our range of freshly roasted coffees perhaps, or how's about our new 50:50 Half-Caff beans?
Roast & Ground 50:50 is the perfect combination of Swiss Water Decaf blended with the sweet, brooding taste of Brazilian Mogiana. It's perfect for those who want to reduce their caffeine content without going the full hog (and it's also ideal for afternoon drinking).
Here's everything you need to know…
Roast Colour: 90 - Medium
Blend: 50% Brazilian Mogiana | 50% SWD Colombia
Tasting Notes
Brazilian Mogiana - Nutty, sweet and distinctly Brazilian, this Mogiana brings malty notes and good body to every mug it graces, with perfect levels of chocolate and caramel to finish
SWD Colombia - A Central American coffee with its caffeine extracted using a special water steaming process. The beans are then high heat roasted until black and oily, leading to a strong, continental taste, without the full-on stimulant effect of a 100% caffeinated coffee
We put our 50:50 Half-Caff to the ultimate test – a blind taste test, no less. Pitted against a full-caff coffee at one of our customer's sites, they LOVED the 50:50.
Want to taste test it for yourself? Call James on 020 3019 4036 or visit our shop.
---
Valued Customers… Talk to Us.
Customer Reviews are Brand New for 2020
We really value our customers - every, single one. That's why we keep in touch and encourage you to share your feedback with us whenever you wish (there's always someone in our office ready to listen).
We'll also now be checking in with you on an annual basis (on your installation anniversary month). This call will help us ensure that you're happy with your machine, our services, the quality of your drinks, and the selection of drinks you have on offer (who knows, maybe you'll be in the mood for a change?).
---
Have You Seen Our New Website?

Have you clicked and taken a trip to our now polished and pixel-perfect new machines website? If not, you should. Here you'll find the latest beverage tech – the crème de la crème of coffee making.
Visit www.roastandground.co.uk and discover the very latest from Rex-Royal, like their new and super chic black machines, as well as the new range from Coffetek, Brita Vivreau water taps and lots, lots more.
While you're with us, take a peek at our blog, and learn about everything from How To Make Great Coffee For A Large Office to 10 Surprising Health Benefits of Fruit, Herbal & Green Tea (you can sign up for straight-to-your-inbox blog updates by signing up on our website).
---
Date For Your Diary
Between 19th – 21st May 2020, we'll be bringing Roast & Ground flavour to the Facilities Show (just as we have for the past couple of years). Arriving with us will be the very latest in Rex-Royal coffee machine technology. We hope you'll be able to visit us!
Finally, we want to wish you a happy, healthy and prosperous New Year.
Here's to another 12 months of great office coffee!