Marco Maxibrew Twin Coffee Bulk Brewer
Marco Maxibrew Twin Coffee Bulk Brewer
The Marco Maxibrew Twin Bulk Brewer is the ideal coffee machine for very high volume situations. The Maxibrew has two large capacity 12 litre urns, which can be set to full or half brew depending on how much coffee use is expected during the day. For those busy times of the day, the Maxibrew can dispense up to 529 cups of coffee per hour.
This filter coffee machine has a hot water tap as well as a coffee tap, both of which can be used simultaneously. It also has a robust stainless steel construction that would not look out of place in the most prestigious of locations.
At a glance: Marco Maxibrew Twin
Drinks: Black Coffee and Hot Water.
Capacity: Ideal for medium volume environments and offices. The machine can produce up to 529 cups per hour.
Benefits: Immediate dispensing of coffee or hot water. Separate hot water and coffee taps. Bulk coffee brewer. Half and full brew feature. Two large capacity urns that can be run simultaneously. Easy to operate.
Optional Accessories: Height stand to raise the machine to accommodate filling large jugs.
Machine Dimensions: Height - 867mm, Width - 762mm, Depth - 630mm. Weight - 50kg.
Technical Specification: Water connection - mains plumbed waste - mains plumbed.
Information: There are other smaller bulk brewers available, such as the Qwikbrew, which operates off a lower power requirement.
If you're interested in this machine
you might also want to see...
Download the Marco Maxibrew brochure
It explains how these reliable machines work, showcases their innovative design, and provides installation planning details.
We will keep your details and occasionally contact you regarding products and services from Roast & Ground. We aim to only make contact when we have something of genuine interest to share. We do not sell or share data with third parties. If you have a preference as to how we contact you or prefer not to be contacted at all, let us know by selecting your Communication Preferences, or emailing us at sales@roastandground.co.uk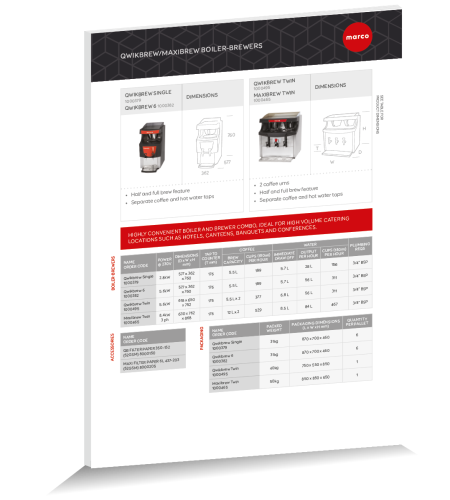 Get a quote
Get A Quote Form