A popular way to dispense meals and snacks
Food vending machines are a popular way to dispense meals and snacks to staff where a canteen or restaurant is not available. They are also useful for out of hours staff who may need access to sustenance at any time of day.
Roast & Ground offers two exceptional food vending machines from a leading manufacturer.
The Festival Food Merchandiser is a complete vending machine with temperature control for fresh food. It uses an innovative drum system that provides excellent visibility for staff and even temperature distribution for the food.
The Jazz Combi food vending machine is a compact unit ideal for smaller workplaces or to supplement the Festival Food Merchandiser. It's ideal for smaller spaces and can dispense cans, bottles, confectionery and most types of popular snacks.
Great value food vending machines - your questions answered

What brands of snacks do your food vending machines stock?
You can stock your machine with anything you like! Roast & Ground can provide a wide range of food and drinks to keep your food vending machine stocked, but you can also add your own preferred brands.
Each machine has been designed to handle most popular snack types so fitting them into the machine should be no trouble at all!
Can your food vending machines dispense fresh food?
The Festival Food Merchandiser can dispense fresh food. The innovative drum system has a central column that passes cold air to maintain a constant temperature. This enables you to fill it with fresh, healthy food without it spoiling.
The drums can be removed individually and refilled quickly and efficiently for minimal temperature loss.
Do these food vending machines come with maintenance?
Yes, they do! We offer full servicing and maintenance on all our food vending machines. We specially selected these machines as they offer exceptional value for money but have also proven themselves very reliable. They are low maintenance machines that require minimal care. If anything does go wrong, our team is always here to help.
How many items can your food vending machines dispense?
The Jazz Combi food vending machine can stock up to 300 items at once depending on its configuration. It has six trays that can be customised to fit snacks of all shapes and sizes but 300 is its maximum capacity.
The Festival Food Merchandiser can dispense between 108 and 150 items. Again, depending on how you configure your machine, you can use between 8-10 drums to dispense different types of food.
How easy is it to refill these food vending machines?
Very easy! Each food vending machine has been designed specifically to be low maintenance and easy to use.
The Festival Food Merchandiser uses drums that slide out horizontally and can be refilled in minutes.
The Jazz Combi food vending machine uses trays that can also be removed horizontally and refilled quickly. Both include lockable access points, a secure cash drawer and tamper-proof dispenser too.
Can your food vending machines dispense hot drinks?
No, the Roast & Ground food vending machines cannot dispense hot drinks. You'll need one of our coffee vending machines for that. Both machines can dispense soft drinks in cans or bottles though.
How are food vending machines installed?
Both our food vending machines are free standing and easy to install. They do require a 13amp power supply so will need an adequate outlet to deliver power.
Otherwise, the food vending machines can be delivered, positioned and set up in less than an hour!
Contact us to discuss your needs.
Looking for the right office coffee machine for your business?
We're here to help. We'll help you select a model that dispenses at the speed and volume you need, while also offering the range of drinks you want. Download our free guide for a quick overview.
We will keep your details and occasionally contact you regarding products and services from Roast & Ground. We aim to only make contact when we have something of genuine interest to share. We do not sell or share data with third parties. If you have a preference as to how we contact you or prefer not to be contacted at all, let us know by selecting your Communication Preferences, or emailing us at sales@roastandground.co.uk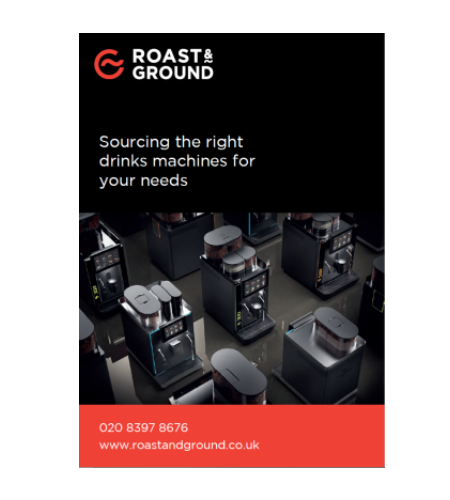 Get a quote
Get A Quote Form