The ultimate in ease and sophistication
Bean-to-cup coffee machines take freshly roasted whole bean coffee, grind it, then brew to perfection, at the touch of a button. Fully automatic machines will add fresh or granular milk for you. Many caterers prefer models with a steam arm so catering staff can froth the milk themselves.
We have crafted our bean-to-cup machine range to offer the best solution for the task and budget. We major on Swiss company Rex-Royal - the top choice for high volume workplaces requiring a wide range of drinks. Coffetek is one of our highly reliable value options, while for smaller workplaces we find the commercial Jura machine is just what's needed.
All of our bean-to-cup machines offer a 'no touch' solution where required. You can read about it here.
There's a lot to consider when choosing a bean-to-cup coffee machine. Why not get in touch and let us advise you?
Looking for the right office coffee machine for your business?
We're here to help. We'll help you select a model that dispenses at the speed and volume you need, while also offering the range of drinks you want. Download our free guide for a quick overview.
We will keep your details and occasionally contact you regarding products and services from Roast & Ground. We aim to only make contact when we have something of genuine interest to share. We do not sell or share data with third parties. If you have a preference as to how we contact you or prefer not to be contacted at all, let us know by selecting your Communication Preferences, or emailing us at sales@roastandground.co.uk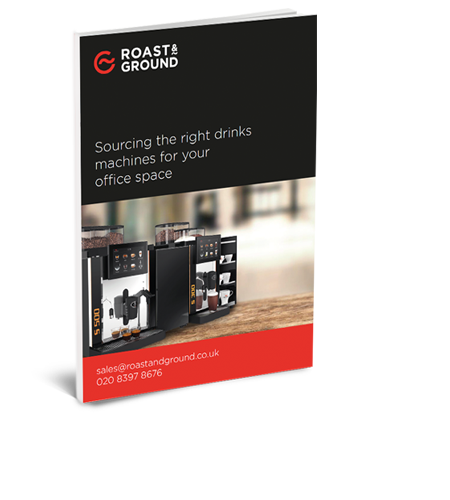 Get a quote
Get A Quote Form