The best workplace coffee in Hampshire
We set out in 2002 with a mission to make office coffee as good or better than you can find on the high street. Now, on any one day, hundreds of Roast & Ground customers are enjoying thousands of our drinks.
We're experts in the machines we sell, and in the coffee beans that will produce a gamut of gorgeous hot drinks right in your workplace – drop after delicious drop, day in, day out.
Want to experience some of the best coffee to be found in Hants? Read on.
State of the art machines to suit anybody
We take pride in matching the perfect machine to its best location. So whether you need a touchscreen bean-to-cup machine with a choice of satisfying speciality drinks, a filter machine for serving groups, or even a traditional espresso machine, we offer a choice of hand-picked models with great buying and finance options.
Want to see a few of our machines in action, or chat over a coffee? You're welcome to visit our showroom in Farringdon, London EC1, or our Chessington office. Just call or email to arrange an appointment.
Areas we cover
Alton | Andover | Basingstoke | Farnborough | Petersfield | Winchester | Southampton | Portsmouth
And everywhere in between
Outstanding coffees with eco credentials too
We have delicious beans and freshly ground coffees to match every mood and moment of the day. Choose from certified Fairtrade and Rainforest Alliance coffees – all selected by Richard, our chief coffee taster, to work brilliantly in our machines. We'll happily advise on flavour profiles to suit your team – just ask for a tasting.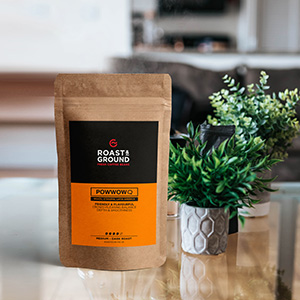 Dark & Robust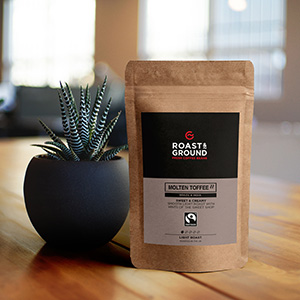 Light Roasts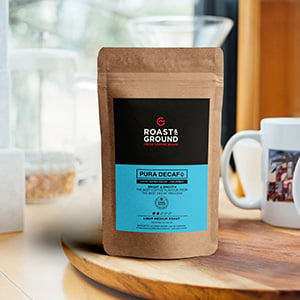 Decaf
"I'm gonna spill the beans: Roast and Ground is tops when it comes to providing excellent coffee for our office!"
Greg, customer since 2017
"Great coffee, great delivery times, great service - what more can you ask for - from a great coffee company, highly recommend Roast & Ground."
Kate, customer since 2010
"Very happy with our coffee machine, it has a great choice of coffee to choose from, deliveries of supplies are usually the next day and when anything does go wrong it is sorted really quickly."
Rose, customer since 2015
Aldershot to Andover, Rushmoor to Ringwood – you can rely on us
If you're an FM Manager based anywhere in Hampshire, rest assured we've got your back. Our Chessington base is perfectly positioned to guarantee fast response times and next day delivery on coffee, tea, hot chocolate and all the other handy consumables you'll find in our online store.
We support everything from education, ICT and financial services to the defence, marine, environment and energy sectors. Our stylish coffee machines can be found in staff rooms, board rooms, conference venues, the hospitality trade and more.
We'll train your staff in how to use the machine and carry out regular maintenance checks. In the unlikely event of a problem, our expert engineers carry parts so will have those drinks flowing again swiftly and smoothly.
Water for wellbeing
Our neat water solutions don't just keep staff happy and well-hydrated, they let you ditch plastic water bottles for good.
Corporate Social Responsibility
Sustainability is key to us and we have many ways to help you meet your CSR targets – from compostable cups to coffee grouts collection.
Get a quote
Get A Quote Form