Vitro X3 Espresso Bean-to-Cup Machine
Vitro X1/X1 MIA
Great value, ease of use, and high-quality components are the hallmarks of the Vitro X1 line-up. Choose from granular or fresh milk models, and enjoy the very best freshly ground coffee and velvety hot chocolates time and again – as many as 150 cups per day. A Go Large option produces satisfying 12oz cups for thirsty workers. Coffee grinding, tamping and brewing are delivered automatically in a matter of seconds while the independent hot water spout and 700cc boiler make preparing tea and herbal infusions a breeze. The Vitro X1 is also very easy to maintain and distance selection technology allows drinks to be chosen without even touching the screen.
At a glance: X1/X1 MIA
Drinks: Up to 12 drinks including Espresso, Americano, Cappuccino, Latte, Mocha, Decaf, Hot Chocolate & Hot Water. Go Large option (8-12oz).
Capacity: Ideal for small to medium volume environments and offices. The machine is designed to serve c. 150 drinks per day.
Benefits: Great value, easy to operate machine that is perfect for small - medium environments. High quality, espresso-based drinks plus instant options. 700cc boiler and separate hot water spout for tea and herbal drinks. 14g coffee capacity allows for up to a 12oz cup size. Touch-free distance selection.
Optional Accessories: Payment Pod – Validator, MDB – Contactless Payment , Base Cabinet, Barista Brewer
Machine Dimensions: Height - 672mm, Width - 337mm, Depth - 505mm. Weight – 30.5kgs.
Technical Specification:
Water connection - Mains.
230 V / 6.5 A / 1.8 Kw / 50 Hz
If you're interested in this machine
you might also want to see...
Download Vitro X1/X1MIA brochure
It explains how these reliable machines work, showcases their innovative design, and provides installation planning details.
We will keep your details and occasionally contact you regarding products and services from Roast & Ground. We aim to only make contact when we have something of genuine interest to share. We do not sell or share data with third parties. If you have a preference as to how we contact you or prefer not to be contacted at all, let us know by selecting your Communication Preferences, or emailing us at sales@roastandground.co.uk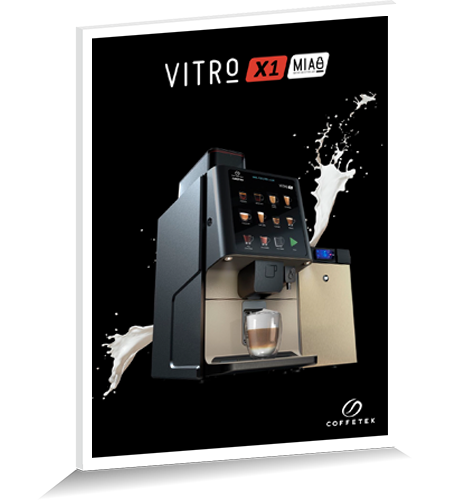 Get a quote
Get A Quote Form