Water
It's key to employee wellbeing and productivity.
Our water solutions put great tasting chilled, still, sparkling and hot options at the heart of your workplace.
Ditch plastic water bottles
We're all trying to reduce our impact on the environment. Single use plastic bottles are a hot topic, so too the needless transport and storage of bottled water.
But few people want to compromise on taste by drinking water straight from the tap - and now, you don't have to.
BRITA's Vivreau solutions from Roast & Ground let you enjoy the clean conscience of drinking tap water with simple - and stylish - point-of-use filtration to ensure great taste.

Why we chose Vivreau for our customers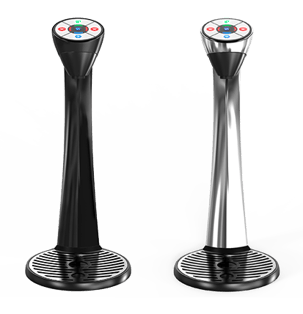 Trusted BRITA filtration technology
Stylish dispensing fonts
Chilled, still and sparkling water plus hot water
Removable dispense nozzles for improved hygiene
Quality
Easy to use
Economical
and of course great taste!
Roast & Ground + BRITA Vivreau = Quality + Convenience
Our expert engineers are all experienced in BRITA filtration technology and can fit your new water dispenser at the same time as your new coffee machine.
You'll have one point of contact for all office drinks machines and they'll be maintained under the one service agreement.
And just as with our coffee machine contracts, you'll enjoy regular filter changes and maintenance to ensure your delicious office drinks keep flowing. That means clarity, simplicity and peace of mind.
Don't hesitate to ask our advice on water types, dispense options and font location. We can even supply branded bottles.
Because, while it's great to have a shiny new coffee machine in the workplace, most of your coffee fans drink tea and water too!
Vivreau ViTap
Sleek, space-saving, multi-function tap for kitchens, offices, conference rooms and banqueting spaces. The cooling-carbonating unit and boiler sit in a cabinet below the worktop.
Vivreau Bottler
Great for guests, customers and employees. We can customise the bottles with your company logo and offer a range of accessories including dishwasher baskets.
Tabletop & Freestanding
Unlimited chilled still water, sparkling, and unchilled still. Our great choice of models all include ThermalGate™ hygiene technology to protect against bacteria build-up.
Equal opportuni-teas
If you're investing in a new coffee machine, it's the perfect time to consider your tea drinkers too by installing a hot water tap.
Our ViTaps dispense glorious filtered hot water at the best temperature for black tea, ensuring those morning and afternoon cuppas are truly restorative and satisfying.
The bonus is you'll eliminate those pesky kettle queues at the same time. No more filling the kettle and waiting for it to boil - you just turn on the tap.
Healthy for everyone
Providing employees and guests with great-tasting Vivreau water isn't just good for the planet - it's good for business, contributing to a pleasant, positive working environment and helping staff feel appreciated.
Stress, mental strain and air conditioning all increase the body's hydration needs. Encouraging your staff to hit the average requirement of 1.5 - 2 litres water a day is socially responsible. Offering a range of great-tasting water options can help them achieve this.
It will also optimise productivity and happiness at work. Why? Because when people are well-hydrated, their concentration and sense of wellbeing improve.
Get a quote
Get A Quote Form