Bravilor Iso Filter Coffee Machine
Bravilor Iso
Filter Coffee Machine
The wonderful aroma gives it away immediately, freshly brewed filter coffee!
The robustly designed Bravilor Bonamat Iso can quickly brew 2 litres of filter coffee into the included vacuum flask. This machine has the added advantage of being able to be positioned almost anywhere, as it can be manually filled. The Iso is designed in high-quality stainless steel with black accents and is equipped with a plastic filter pan.
The Bravilor Bonamat Iso offers a flexible solution for your coffee!
At a glance: Bravilor Iso
Capacity: Ideal for small to medium volume environments and offices. This machine can produce up to 18 Litres per hour.
Benefits: Designed in high-quality stainless steel with black accents. Manually filled for fresh filter coffee anytime and anywhere. Easy operation and low maintenance. Vacuum flask for maintaining the correct temperature for the coffee.
Optional Accessories: Filter cups, Filter pan, Measuring spoon, Further options are available upon request.
Machine Dimensions: Height - 465mm, Width - 214mm, Depth - 391mm. Weight - 2kg.
Technical Specification: Water connection - manually fed. Waste - manually emptied.
Information: There are other filter coffee machines available.
If you're interested in this machine
you might also want to see...
Download the Bravilor Iso brochure
It explains how these reliable machines work, showcases their innovative design, and provides installation planning details.
We will keep your details and occasionally contact you regarding products and services from Roast & Ground. We aim to only make contact when we have something of genuine interest to share. We do not sell or share data with third parties. If you have a preference as to how we contact you or prefer not to be contacted at all, let us know by selecting your Communication Preferences, or emailing us at sales@roastandground.co.uk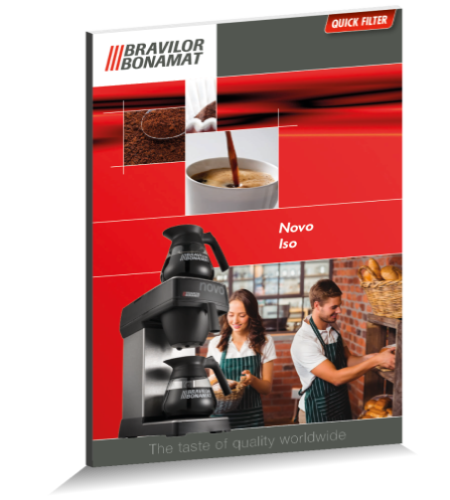 Get a quote
Get A Quote Form