Marco Jet6 Filter Coffee Machine
Marco Jet6
Filter Coffee Machine
The eye-catching Marco 6L Bulk Coffee Brewer Jet6 brews large quantities of fresh coffee directly into a portable urn, at the touch of a button. Each urn can dispense 189 cups of coffee fresh from its included tap. It has a variety of user-friendly features, including a touch screen interface, basket safety lock during brewing and exceptional energy efficiency. This machine is available in two power outputs, and as a Single or Twin machine.
At a glance: Marco Jet6
Drinks: Black Coffee & Hot Water
Capacity: Ideal for small to medium volume environments and offices. This machine can produce 18 litres per hour.
Benefits: Pre-set recipe and volume options for morning, afternoon and evening. Variable batch volumes. Basket safety lock during brewing. Vacuum insulated portable urn for energy efficiency and temperature retention. Optional Grinder also available.
Optional Accessories: Twin urn option, Extra coffee urn, Jet Grinder, Further options are available upon request.
Machine Dimensions: Height - 810mm, Width - 303mm, Depth - 444mm. Weight - 24kg.
Technical Specification: Water connection - mains plumbed. Waste - mains plumbed or drip tray.
If you're interested in this machine
you might also want to see...
Download the Marco Jet6 brochure
It explains how these reliable machines work, showcases their innovative design, and provides installation planning details.
We will keep your details and occasionally contact you regarding products and services from Roast & Ground. We aim to only make contact when we have something of genuine interest to share. We do not sell or share data with third parties. If you have a preference as to how we contact you or prefer not to be contacted at all, let us know by selecting your Communication Preferences, or emailing us at sales@roastandground.co.uk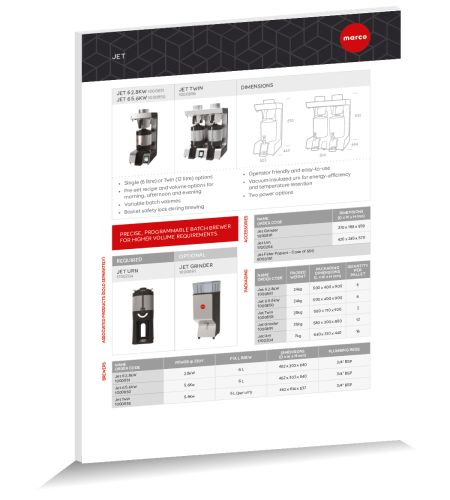 Get a quote
Get A Quote Form