Rex-Royal S2 Bean-to-Cup Machine
Rex-Royal S2
Bean-to-Cup Machine
Looking for great tasting drinks from a contemporary machine that is built to last? This 100% Swiss-made bean-to-cup coffee machine is the perfect professional machine for small to medium capacity requirements (less than 1kg beans per day). It's an ideal solution for offices, conference rooms, staff rooms and retail outlets.
The S2's high-quality, high performance metal brewing unit, delivers optimal extraction for fabulous coffee. The intuitive, video-capable 7" touch screen can be programmed for up to 24 drinks. It's easy to operate and with visual on-screen prompts, easy to clean. It comes with a number of accessories and customisation options.
At a glance: Rex-Royal S2
Drinks: Up to 24 drinks including Espresso, Ristretto, Cappuccino, Latte, Macchiato, Mocha, Americano, Black or White Coffee, Decaf, Hot Water, Hot Chocolate and Hot Milk. Drink options are model specific.
Capacity: Ideal for small to medium capacity requirements. Up to c. 150 cups per day.
Benefits: Makes a perfect espresso with high performance metal grinder and piston. Direct grinding for fresh coffee. Great tasting drinks with easy to use push-button operation. Easy to maintain with an automatic rinsing and cleaning programme. Coffee grounds can be removed through built-in grounds drawer.
Optional Accessories: Payment systems, cup warmers and condiment dispensers, fridge size and configuration options. Machine colour and printed graphic customisation.
Machine Dimensions: Height - 635mm, Width - 390mm, Depth - 550mm. Weight - 46kgs to 51kgs (depending on model).
Technical Specification: Water connection - mains plumbed with tank-fed option. Waste - mains plumbed or drip tray.
Information: Other models are available which will have different power requirements.
If you're interested in this machine
you might also want to see...
Download the Rex-Royal S2 brochure
It explains how these reliable machines work, showcases their innovative design, and provides installation planning details.
We will keep your details and occasionally contact you regarding products and services from Roast & Ground. We aim to only make contact when we have something of genuine interest to share. We do not sell or share data with third parties. If you have a preference as to how we contact you or prefer not to be contacted at all, let us know by selecting your Communication Preferences, or emailing us at sales@roastandground.co.uk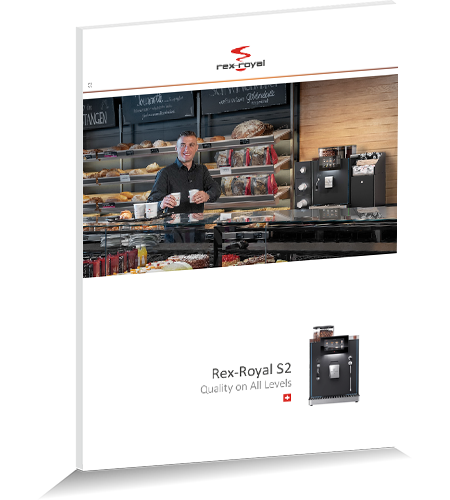 Get a quote
Get A Quote Form