Vitro X3 Duo Bean-to-Cup Machine
Vitro X3 Duo
Bean-to-Cup Machine
The fully automatic Vitro X3 Duo creates genuine Italian style espresso-based coffees, hot chocolate and fresh brewed leaf tea with the convenience of granular milk. A dual boiler system ensures it serves perfectly made drinks at exactly the right temperature in the blink of an eye. Dispensing a high capacity output of 210 cups per day and 90 cups of espresso per hour, it is ideal for medium sized offices, staff rooms, conference rooms and catering operations. This model includes an RGB lighting system that can be customised to complement its surroundings.
New Air Touch distance selection enables drink selection without touching the screen.
At a glance: Vitro X3 Duo
Drinks: Up to 10 drinks including Espresso, Cappuccino, Latte, Mocha, Leaf Tea, Hot Water & Hot Chocolate.
Capacity: Ideal for medium to high volume environments and offices. The machine can serve 210 cups per day.
Benefits: Incorporates high pressure espresso technology providing authentic Italian style beverages. Direct grinding for fresh coffee and many instant vending options, including leaf tea. Great tasting drinks with easy to use Touch-Screen operation. High capacity product containers. Dual boiler for high capacity output.
Optional Accessories: Coin acceptor, Card reader, Base cabinet with waste output, Further options are available upon request.
Machine Dimensions: Height - 700mm, Width - 420mm, Depth - 550mm. Weight - 45kgs.
Technical Specification: Water connection - mains plumbed. Waste - mains plumbed or drip tray.
If you're interested in this machine
you might also want to see...
Download Vitro X3 Duo brochure
It explains how these reliable machines work, showcases their innovative design, and provides installation planning details.
We will keep your details and occasionally contact you regarding products and services from Roast & Ground. We aim to only make contact when we have something of genuine interest to share. We do not sell or share data with third parties. If you have a preference as to how we contact you or prefer not to be contacted at all, let us know by selecting your Communication Preferences, or emailing us at sales@roastandground.co.uk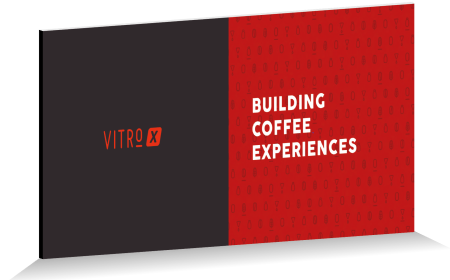 Get a quote
Get A Quote Form