Vitro X3 Espresso Bean-to-Cup Machine
Vitro S1
Bean-to-Cup Machine
A compact machine that's big on flavour, this entry point, fully automatic model produces espresso and hot chocolate with the convenience of granular milk. The Vitro S1 is perfectly proportioned for small offices, staff rooms, conference rooms and catering operations, with stylish glass and curved edges that will look great anywhere. Choose mains-fed or a water tank and enjoy as many as 60 delicious hot drinks a day in 8-10oz cup sizes. Outstanding ease of use and high quality components make this a machine you can rely on day in and day out.
At a glance: Vitro S1
Drinks: Up to 8 drinks including Espresso, Americano, Cappuccino, Latte, Mocha, Decaf, Hot Chocolate & Hot Water. Ideal for smaller cup sizes, max 10oz.
Capacity: Ideal for small volume environments and offices. The machine can serve c. 60 cups per day.
Benefits: Great value compact machine perfect for smaller environments. High quality, espresso-based drinks plus instant options to provide a broad range of drinks. Water source can be mains or tank for maximum convenience.
Optional Accessories: Payment Pod Validator, MDB Contactless payment, Base Cabinet, Base Cabinet with waste solution. Further options are available.
Machine Dimensions: Height - 305mm, Width - 430mm, Depth - 625mm. Weight – 27.5kgs.
Technical Specification: Water connection - mains or tank.
230 V / 6.5 A / 1.5 Kw / 50 Hz
Download Vitro S1 brochure
It explains how these reliable machines work, showcases their innovative design, and provides installation planning details.
We will keep your details and occasionally contact you regarding products and services from Roast & Ground. We aim to only make contact when we have something of genuine interest to share. We do not sell or share data with third parties. If you have a preference as to how we contact you or prefer not to be contacted at all, let us know by selecting your Communication Preferences, or emailing us at sales@roastandground.co.uk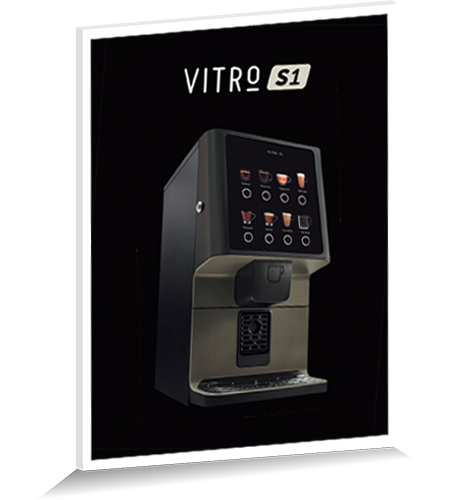 Get a quote
Get A Quote Form