Canto Coffee Shop Vending Machine (Hot Drinks)
Canto Coffee Shop
Vending Machine (Hot Drinks)
The Canto is a bean to cup coffee and leaf tea vending machine.
This elegant and stylish design with backlit black and silver aesthetics makes the Canto an attractive addition to any business environment. The machine also has additional lighting in the cup delivery area to help the customer experience.
At a glance: Canto Coffee Shop
Drinks: The machine can provide Bean-To-Cup Coffee, Instant Coffee, Leaf Tea and Chocolate. This machine dispenses the complete drink in a disposable cup and can also add sugar if required.
Capacity: This machine can produce 450 cups per day.
Benefits: Stylish design with large graphical LCD display. High capacity in a small footprint. 22 high quality drink selections. The drinks can be vended into 7oz, 9oz or large 12oz cup sizes. Uses FREEMIX technology to create high quality drinks. Colour coding of components for easy cleaning & maintenance. Energy saving mode.
Optional Accessories: Coin mechanism can be added, Further options are available upon request.
Machine Dimensions: Height - 1830mm, Width - 650mm, Depth - 760mm (Depth with door: 1320mm). Weight - 170kg.
Technical Specification: Requires a standard 13 amp power supply.
Information: There are other models available which operate off different power requirements.
If you're interested in this machine
you might also want to see...
Download the Canto brochure
It explains how these reliable machines work, showcases their innovative design, and provides installation planning details.
We will keep your details and occasionally contact you regarding products and services from Roast & Ground. We aim to only make contact when we have something of genuine interest to share. We do not sell or share data with third parties. If you have a preference as to how we contact you or prefer not to be contacted at all, let us know by selecting your Communication Preferences, or emailing us at sales@roastandground.co.uk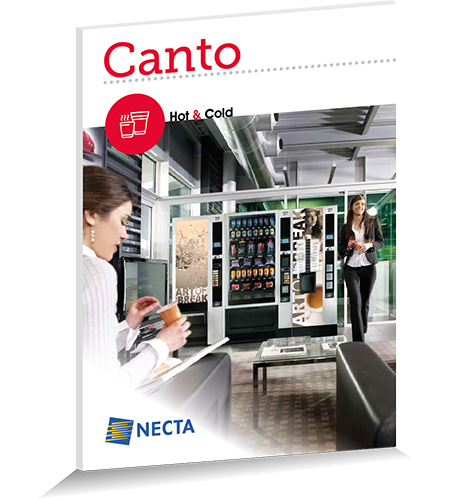 Get a quote
Get A Quote Form