Jura JX6 Bean-to-Cup Machine
Jura X6
Bean-to-Cup Machine
The Jura X6 coffee machine is a robust professional solution for black coffee plus hot water for tea and infusions. For small to medium offices, it will prepare black coffee, pro-standard pots of coffee and provide hot water at two different temperatures. The Pulse Extraction Process (P.E.P.®) ensures optimum extraction time for short specialities, making the ristretto and espresso true taste explosions. The JX6 is equally suited to mobile use or fixed locations. An easy-to-understand operating concept makes it especially useful for self-service areas.
Comes with the JOE operating system so drink selection can be made from your smartphone or tablet.
At a glance: Jura X6
Drinks: Up to 12 drinks including Black coffee, Espresso, Espresso doppio, Ristretto, Hot Water for Tea, Pot of Coffee (360ml).
Capacity: Ideal for medium volume environments and offices. The machine can serve up to 80 cups per day.
Benefits: Easy to programme and operate. 12 specialties can be individually programmed. Colour display. Adjustable height spout. Integrated rinsing, cleaning and descaling programmes. Programmable switch-off time.
Optional Accessories: Cup warmer, Coffee grounds disposal/drip drain set, Bean container extension, Further options are available upon request.
Machine Dimensions: Height - 470mm, Width - 373mm, Depth - 461mm. Weight – 12.9kg.
Technical Specification: Water supply - 5 litre water tank.
If you're interested in this machine
you might also want to see...
Download the Jura X6 brochure
It explains how these reliable machines work, showcases their innovative design, and provides installation planning details.
We will keep your details and occasionally contact you regarding products and services from Roast & Ground. We aim to only make contact when we have something of genuine interest to share. We do not sell or share data with third parties. If you have a preference as to how we contact you or prefer not to be contacted at all, let us know by selecting your Communication Preferences, or emailing us at sales@roastandground.co.uk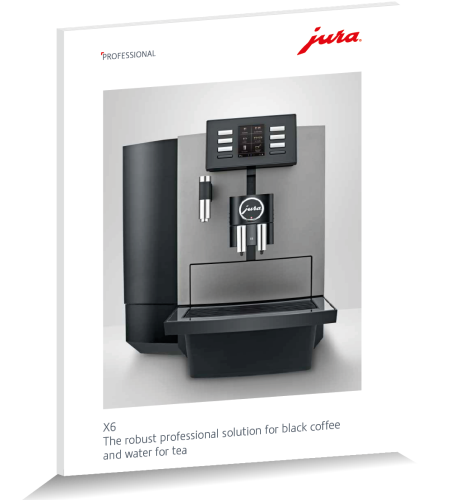 Get a quote
Get A Quote Form