So, you want great coffee at work – you've read up, researched and a clear case has been made for selecting a bean-to-cup coffee machine, over and above capsule-based machines. Now? You face wading through dozens of websites, many suppliers, and a shiny line-up of hundreds of bean-to-cup machines - each one vying for your attention.
Amongst them all, there is Rex-Royal – a prestigious coffee machine brand. Here we explain ten reasons why Rex-Royal reigns supreme in the kingdom of office coffee.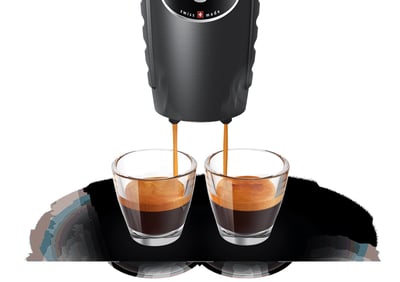 1. Rex-Royal demonstrates the best of Swiss-made engineering
Famed for the finest of timepieces, always-punctual trains and cutting-edge architecture, it seems the Swiss' natural penchant for engineering knows no bounds.
As a Swiss brand, Rex-Royal has shown other coffee names how things should be done for over eight decades (there are so many reasons for going Swiss with your coffee machine, that we've written an entire article on the subject).
2. The, easy-to-navigate, multi-function TouchScreen
A feature that garnered attention industry-wide, and that acts as a welcome solution for creating your coffee, your way.
3. Across the world you will find Rex-Royal machines in offices, hotels and on trains
Rex-Royal serves up steaming cups of frothy coffee worldwide, from Cologne to Chessington – in offices where workers would otherwise feel fatigued, as well as in hotels and on trains, where Rex-Royal wakes up weary travellers.
4. Metal pistons make for a perfect crema
Crema –the Holy Grail of coffee creation - that golden, glistening coloured liquid that sits atop your espresso. When it comes to this magical element (which is a sign of fresh beans and the right grind for good flavour extraction), Rex-Royal is the crème de la crème – the cream of the crop – as the metal pistons create the perfect crema each and every time.
5. Quality components that are built to last
Rex-Royal coffee machines are primarily made from high-quality metal. Standing up to the pressure of the busiest of commercial environments, Rex-Royal machines create years of perfect cups of coffee – serving up as many as 250 cups every, single, day (with a 12 months parts warranty as standard).
These machines are built to last and can be complemented with a Roast & Ground service contract, which includes filter changes, preventative maintenance and breakdown cover.
6. The metal casing keeps your machine looking shiny and brand-new
Because Rex-Royal machines feature plenty of metal, they're easy-to-clean, buff and polish back to a like-new shininess.
7. Rex-Royal machines are seriously stylish
Innovation and superior build quality means little if your coffee machine looks clunky, ugly and at odds with its surroundings. Thankfully this is no concern with Rex-Royal – each model looks as slick as the first day you bought it through its lifetime. And these machines are built to last.
8. Rex-Royal began in the catering market - they've always focused on exceptional quality, high-volume solutions
Rex-Royal machines were once exclusive to caterers. For years, these machines would only be found at weddings, hectic working cafeterias and high-end hotels. Now, this commercial-grade quality and high-volume is accessible to every office and working environment.
9. Things go fully automotive with the steam wand option
Steamed milk or foamed? Some prefer the steam that their Rex-Royal creates. For others, the clear choice is the thick, heavy froth of steamed milk that their self-serve whips up (and being able to choose between standard foam or a more luxurious, compact foam).
10. Medium to large volume dispense options
Rex-Royals are built to create coffees according to the exacting specifications of the latest person to pour a cup – that means pre-set coffees spanning from Latte Macchiatos to Mochas – either medium for the mid-afternoon break, or large for a Monday morning pick me up.
Ready for a Rex-Royal Coffee Machine?
Monday mornings will never be the same again.