Here's everything you need to know
Please be upstanding for coffee machine royalty - the new Rex-Royal S500. Barista-standard drinks, automatically produced and packing in plenty of power under the hood. The S500 serves up many a reason to make this your office coffee machine of choice.
Whether you're a workplace caterer, or you're looking for a sumptuous self-serve, the S500 makes for a compelling choice. Here's why…
Introducing – the Rex-Royal S500
An overview
58 litres of hot water (every, single, hour), 3 separate boilers, over 250 drinks every day, 23 grams of coffee powder, up to 3 grinders, (three different coffee blends) and two instant options – think creamy hot chocolate or delicious crème brûlée. That's the S500 in numbers. Now for the taste - from a classic espresso, to a layered latte macchiato, onto delicately frothy cappuccino (not to mention comforting hot chocolate, or a cold milk frappe).
Feeling fatigued? Opt for a double dose. Some workers prefer semi-skimmed, while others are firmly full fat fans - no problem – the S500 can easily process two types of milk if needed.
With the CompactFoam version, think coffee shop barista-style milk, caterer volume capabilities and, wait for it, even latte art – all churned out gracefully with only the most minimal of noise (making it the perfect option for quieter offices).
The milk system…
The da Vinci of the coffee machine realm
The Rex-Royal S500 features a fabulous manual foam system with a superior quality milk pump – for barista-style milk and texture, and the ability to create delicious speciality coffees; from lush latte macchiatos to classic cappuccinos, this machine admirably handles it all.
There's also a 'cold foam' add-on option which will allow you to create frappes and other cold drinks using the delicious creamy milk foam. So if you're in search of barista-style beverages with a dense, creamy foam (whether hot or cold), you've found it.
With the addition of the two instant canisters, your drinks range can be extended even further (want creamy hot chocolate, crème brûlée or vanilla drinks? You got it).
The Rex-Royal S500 is a wonderful choice for caterers who need a coffee machine with an array of different modes. It can operate either as a fully automatic machine for self-serve, or allow for milk foaming by hand. This ability to switch between modes is ideal for working with different skill levels and times of day.
All of which is topped off with the automatic Rex-Royal cleaning system, which meets HACCP guidelines (which are the most stringent hygiene standards).
Next-gen coffee communication...
Capable of branding and blending into its backdrop
The crystal-clear 10.1-inch touchscreen display makes interaction easy – providing an intuitive choice between cup pre-selection or self-service.
Need to know about coffee volumes or maintenance information – with telemetry the S500 automatically 'talks' to the back office. You can also personalise the S500 with your choice of colour – you can even display your logo and run a short video through the screen.
Combinations and configurations...
Modular machine versions and add-on units
The 10-litre fridge can sit neatly next to the S500, or it can be placed under the counter (if you're working with a smaller space).
Want to go all out – with mugs, cups and miniature espresso cups to the left – disposable containers for drinking-on-the-go to the right? The S500 has multiple add-on units, for many machine configurations.
To top it all off...
Our service is as tempting as the beverages the S500 creates
The impressive capabilities that the Rex-Royal S500 offers are equalled by our dedicated service standards. Our preventative maintenance and on-site repair service is second to none. We offer a 6-hour call-out in London, and 24-hours nationwide – as well as next day deliveries of freshly roasted coffee and other consumables.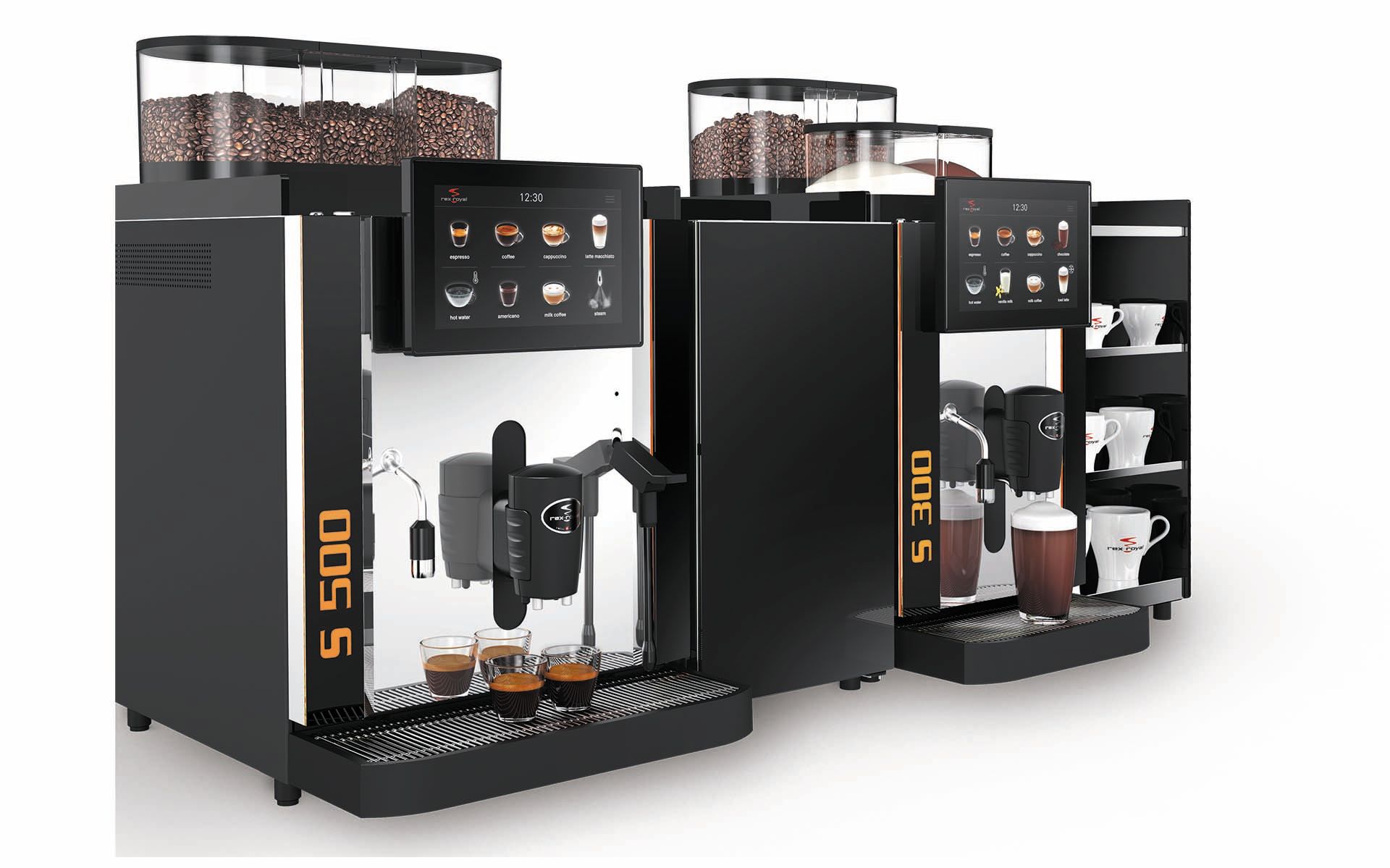 Ready for the Rex-Royal S500? Monday mornings will never be the same again. Explore the S500 in all its innovative glory...