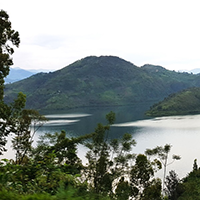 The land of a thousand hills and a flourishing coffee economy
Rwanda – a region renowned for its breath-taking scenery, welcoming people and vibrant wildlife. Here you'll find four national parks, many magnificent gorillas and extraordinary biodiversity. But equalling its beauty, has been its poignant and tumultuous history, some of which has been sheer, unimaginable horror.
Among the many things that you'd associate with Rwanda, delectable coffee probably isn't among them. So allow us to take a tour - of Rwandan history, geology and coffee.