The land of a thousand hills and a flourishing coffee economy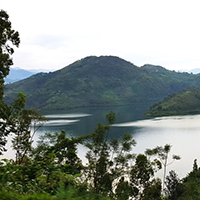 Rwanda – a region renowned for its breath-taking scenery, welcoming people and vibrant wildlife. Here you'll find four national parks, many magnificent gorillas and extraordinary biodiversity. But equalling its beauty, has been its poignant and tumultuous history, some of which has been sheer, unimaginable horror.
Among the many things that you'd associate with Rwanda, delectable coffee probably isn't among them. So allow us to take a tour - of Rwandan history, geology and coffee.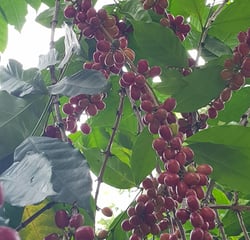 Rwanda - A brief history
Rwanda, a miniature East African country, spans just 26,338 km² (to put this into perspective, the UK amounts to 242,495 km²).
For hundreds of years, this region was ruled by a succession of Tutsi kings from a single clan – with power passing down through cattle chiefs, land chiefs and military chiefs. It's people - Hutu, Tutsi and Twa – lived harmoniously side by side.
In 1899, German colonisation arrived, which would eventually pass Rwanda to Belgium control in 1919. This would mark the beginning of a bloody passage of time, that would span some 75 years - if anyone has known chaos and devastation, it is the Rwandan people.
In 1959, a violent incident led to a Hutu uprising. Hundreds of Tutsi deaths followed and many more were made refugees. This event would be the beginning of the so-called 'Hutu Peasant Revolution'.
Then, just 24 years ago in 1994, 800,000 people were killed in the space of just 100 days. Behind the genocide were members of the Hutu nationalists, who targeted the Tutsi. This terrible event not only led to slaughter, but also to the displacement of 2 million people.
An economy grows – This is now a land of hope
The history of Rwanda's coffee dates back to 1904, when missionaries arrived with coffee trees. From these few trees, and the terrible ashes of Rwandan history, has emerged a society that now flourishes – spurred on by a booming coffee trade. First came its clean coffee processing station – around which two restaurants, a pharmacy, bank, six hair salons and an internet café sprung up (as reported by the NY Times in 2006).
"My coffee gave me hope for a better future"
Mukashyaka, Part of a Coffee Co-operative – reported in 2006 – NY Times
Over the intervening 12 years more than 450,000 small grows have steadily risen – dotting the landscape of Rwanda, with large clusters around Gisenyi, near the shores of Lake Kivu.
"By improving the quality of their coffee, about 40,000 of Rwanda's 500,000 coffee farmers have at least doubled their incomes. Coffee has played a crucial role in the positive changes in Rwanda".
Kevin J. Mullally, who runs the office of the United States Agency for International Development
The sweeping landscapes of Rwanda's hills now glisten with green coffee beans, transforming into a bright red once ready for harvest – typically in February or May. Once ripe, they are picked by hand and transported to a washing station, where they are pulped, fermented and graded. They are then left to dry in the sun, before the final step of their journey takes place at the milling fields.
The geology and climate of Rwanda proves to be perfect for farming and harvesting exceptional quality coffee beans – where deep, well-drained, high mineral content soil exists by the thousands of kilometres.
Meet the award-winning Mugonero
Mugonero - the latest addition to our line up – a fabulous single origin coffee that's been nominated for a PEA Caterer Product Excellence Award, not to mention winning an illustrious 2* Great Taste Award 2018.
Grown at an altitude of 1800m and cultivated by 2000 farmers and collectors at the Mugonero Wet Mill in the Nyamasheke District, our Mugonero coffee is a fabulous Rwandan single origin coffee.
The authentic taste of Rwanda
Tasting Notes - Tangerine, dry cranberries, demerara sugar, dense sweetness.
Black - Floral aroma, jammy body, citric acidity.
With Milk - Berry fruit, demerara sugar, jammy body.
What the judges' said…
"Such good balance from the fruity notes that shine through. With milk, this became stunning, sweet in the right places and with a rich, brown sugar finish".
Find out more about our award-winning Mugonero and other coffees here