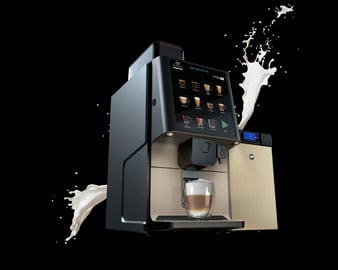 A bean-to-cup coffee machine takes coffee to a new level, and now there are three new machines in the Roast & Ground line up.

Made by Coffetek, the Vitro S1, X1 and X1MIA offer delicious bean-to-cup coffee for commercial environments.
There's lots to consider when choosing your coffee machine, such as the drinks produced and the capacity. Here's a closer look at what our new Vitro range offers, and how they compare.
If you require up to 60 cups of coffee per day, the Vitro S1 fits the bill. A compact machine that's ideal for smaller locations, with the convenience of granular milk.
The Vitro S1 Espresso is a bean to cup coffee machine that gives the option of eight different espresso-based drinks including Americano, Espresso, Cappuccino, Mocha, Latte and Decaf. It also provides hot chocolate.
The bean canister holds up to 1200g of coffee beans. This can be filled from the top for maximum convenience. There are also canisters for granular milk and hot chocolate. The water tank has a capacity of four litres.

The S1 waste tray has a capacity of 1.2 Litres and grounds bin has capacity for 60 coffee "cakes/pucks", allowing it to easily handle a full day of producing coffees. Emptying the tray is easy as it's fully removable, and compatible with dishwashers for rapid cleaning. A touchscreen keypad combines with pictorial labels to make it easy for staff and/or customers to select their preferred beverage. It can be fitted with a coin validator but also has RFID technology for cashless systems.

An elegant bean-to-cup coffee machine, the Vitro X1 has a premium finish which makes it a high-class addition to office, business and other commercial environments. With a capacity of up to 150 cups of coffee per day, it's perfect for low to medium volume settings.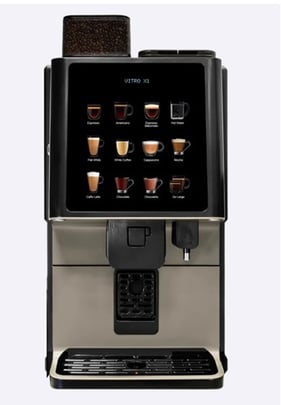 The powerful 700cc boiler provides the option of 12 different drinks, including hot chocolate, tea and herbal infusions via a separate hot waterspout. The espresso-based coffee drinks include options such as Mocha, Latte, Cappuccino, Americano and Espresso. Once the selection is made, the machine grinds, tamps and brews the coffee automatically. Milk preparation uses granular milk.
What's special about the X1 is that you can adjust the taste and recipe to the specific tastes of your staff and customers by adding anything from 7-14g of coffee per cup. This ensures a smooth, rich taste of freshly ground coffee that's exactly as you want.
The front of the machine includes a clear display with images of the drinks which can be selected. Customers can either use the touchpad or take advantage of the cutting edge touchless technology, the patented Distance Selection.
There is a single hopper on the machine which holds up to 1200g of coffee beans; this can be adjusted to a maximum capacity of 2200g. The hopper can be refilled from above with no need to open the door. It also holds 600g of powdered milk and 800g of hot chocolate powder.

Great tasting drinks are only part of the story; the X1 is also a practical machine using granular milk and with an intuitive design which is simple to clean. The waste liquids tray holds 1.2 litres and is fully removable from the front without opening the machine. It can be cleaned in the dishwasher for maximum convenience.

Similarly to the Vitro S1, the Vitro X1 can be configured to accept coins or contactless payments.
If you love the dense and creamy foam of a coffee shop coffee, take a look at the Vitro X1 MIA. Delivering an authentic barista experience in every cup, you can enjoy a satisfying cup of coffee whenever you want.

The X1 MIA is very similar to the X1 in terms of volume output and drink selection, able to produce up to 150 cups of coffee every day making it suitable for low-medium volume commercial environments. It offers up to 12 different hot drinks, including a range of espresso-based coffees plus a hot water spout for tea, hot chocolate and infusions.

However, the key difference is the use of fresh milk. Featuring a reliable 700cc boiler, the X1 MIA can brew coffee quickly, using fresh milk for a creamy, velvety beverage. Choose from either a warm or cold foam, courtesy of the MIA technology that's integral to this coffee machine. Using patented micro-injected air technology, the X1 MIA creates millions of bubbles within the milk for an unmistakable texture and taste.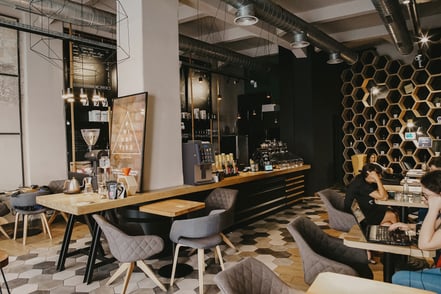 This special technology means there's no risk of steam escaping, and no need to constantly heat the milk. It also means there's no steam boiler required, so no need for boiler pressure tests.

Of course, the use of fresh milk means there needs to be a very robust cleaning mechanism, and that's built into the design of the X1 MIA. Five minutes after the last coffee in a service has been brewed, the machine automatically releases pressurised water, pushing it through the pipes to remove any milk residue.

This automated cleaning cycle is rapid and effective and is supplemented with a manual cleaning process every 24 hours. Using a cleaning product, and activated by the user, it takes only 10 minutes for a deep clean cycle throughout.

The single hopper can be loaded from above, and there's also the removable liquid waste tray which is dishwasher friendly.
Patented touchless technology comes as standard, ideal for the modern world.

Need Some Help Choosing?

With so many excellent coffee machines available and so many features to consider, it can be difficult to choose the right one for your business.

Let us give you a hand with our simple coffee machine matching facility. Just answer four easy questions and we'll be able to recommend the coffee machines that best suit your needs.

A high-quality coffee machine can make a real difference to your working environment so don't wait any longer; get in touch and discover your perfect new coffee machine today!