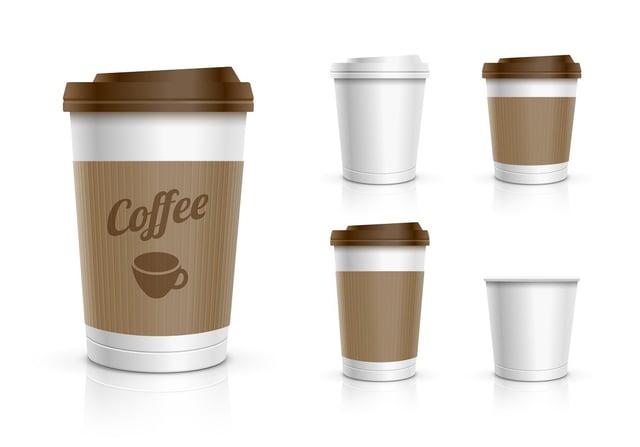 Disposable cups have received a lot of bad press recently after, MP Rory Stewart, told fellow MPs they posed a "huge" problem, as the majority are sent for incineration or to landfill sites. Mr Stewart suggested last year's tax on plastic bags was such a success that cups should be the next item to be taxed, in order to make consumers think twice about their wastage. However the MP's Department for Environment, Food and Rural Affairs (DEFRA), were quick to comment saying there were "no plans" for a tax.
According to recent reports, fewer than 1% of the 2.5 billion paper and plastic cups used annually across the UK, are recycled. The issue with the majority of disposable cups is that they contain plastic lining, which is used to prevent the cups from leaking, however this also prevents them from being recycled. Currently, there are just two factories run by Simply Waste Solutions, the only paper cup collection and recycling scheme in the UK, who use special technology to strip the plastic from the cups.
At Roast & Ground we take our Corporate Social Responsibilty seriously, which is why we chose Huhtamaki, the founding member of the Paper Cup Recovery and Recycling Group, as our cups supplier. Every paper cup that the company manufacture in the UK is made from 100% PEFC certified paperboard (PEFC – Programme for the Endorsement of Forest Certification). This is a globally recognised trademark that certifies their cups are made from sustainable forest paper.
Huhtamaki is also a proud member of the Simply Cups recycling scheme, which was initially launched back in 2014 to provide a cost-efficient, tailor made collection and recycling service for businesses. As Huhtamaki's cups contain a polyethylene coated board, a plastic component used in a wide range of packaging solutions, these need to be collected by Simply Waste Solutions in order for them to be made into a high grade pulp suitable for a variety of uses, from luxury papers right through to robust packaging materials.
We also supply Huhtamaki's Bioware cups, which again need to be collected by Simply Waste Solutions, in order for these to be sent to their industrial composting factory, where they are mixed with organic waste to help speed up the composting process. The end result is quality compost suitable for use in farming and horticulture.
To find out more about the Simply Cup recycling scheme and how to become a member, please visit the below link:
http://www.simplycups.co.uk/join-us/
To view our full cup range, visit our online shop below: