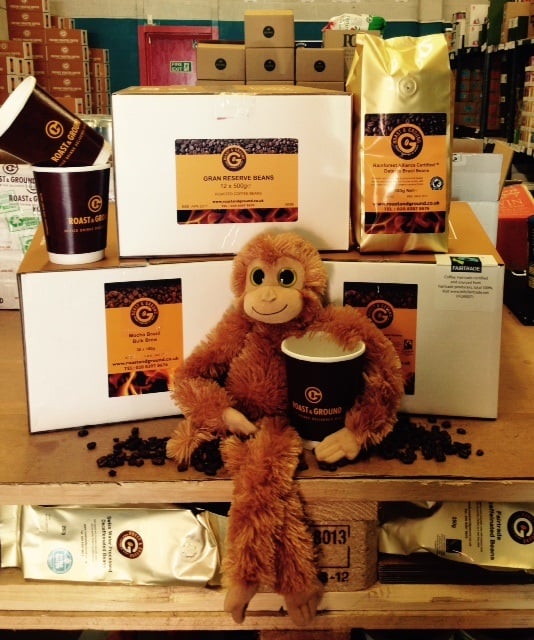 Background
Cino, our office mascot, arrived at Roast & Ground HQ in a box of Fairtrade Columbian Superior Beans on the 1st April 2016. At first we thought it was a bit of an April Fools, however he soon found himself settled amongst the rest of the team and we're pleased to announce he's a Full-Time employee. Cino will be making regular appearances, whether helping out with consumables deliveries or entertaining on social media, so keep your bananas peeled for him here: https://twitter.com/RoastGround.
We hope you grow to love him as much as we do!
Roast & Ground
To find out more about our office mascot Cino, please see his fun facts below:
Cino's Stats
Full Name: Cappuccino Carlos Garcia aka "The Organ Grinder"
Nickname: Cino
Mammal: Capuchin monkey
Birthplace: Colombia
D.O.B: 16/01/2013
Age: 3 years old
Height: 36cm
Weight: Prefers not to say!
Cino's Favourites
Colour: Brown
Song: The Coffee Song by Frank Sinatra
TV Show: FRIENDS TV Character: Marcel (Cino's cousin!)
Book: The Infinite Emotions of Coffee by Alon Halevy
Movie: The Jungle Book
Drink: Despite what his name suggests, he's rather partial to a Latte!
Food: Walkers biscuits, his favourite flavour is Belgian Chocolate, which you can order from our online shop here:
Likes: Coffee, Tea, Hot Chocolate (he's in heaven when he's monkeying about in our stock room!), salmon bagels with cream cheese, roller-skating, abseiling and cuddles
Dislikes: Animal cruelty, Monday's, people who shout and alcohol. Cino is teetotal, which is handy as we keep a wide range of teas in stock! You can find out more about our consumables below: