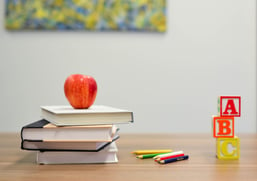 As schools reopened across the UK after lockdown, everyone began to adjust to new routines. With the return to school guidelines to put in place, there's been a lot for teachers and school staff to consider. Plus addressing that backlog of work that's accumulated!
With so many demands on time and new rules to adhere to back at school, the job of school staff and teachers is becoming increasingly complex. Undoubtedly it can be difficult for teachers to find the time to take a much-deserved break.
We think there's never been a better time for teachers and other school staff to have a shiny new coffee machine! Access to high quality and delicious tasting coffee from the school staffroom. There's nothing like the taste of a fresh latte straight from a high-end coffee machine right?
Our bean-to-cup machines offer a large range of quality drink options to suit any taste. Barista standard coffee is a great way to say thank you to hard working school staff that are pulling together and working tirelessly during this pandemic.
At Roast & Ground, we offer a comprehensive coffee service experience. We advise and support schools to find the best staff-friendly options that keep workers safe. We offer a delicious range of coffees, quality, reliable coffee machines and we're always on hand to answer questions and offer a helping hand when you need it most. Now, that's great service in uncertain times!
Many return to school workers are concerned about using communal areas and appliances due to infection risks. You'll be relieved to know that you don't have to sacrifice your staffroom coffee fix!
We have several touch free and contactless options that enable staff to enjoy a much-needed latte or cappuccino during their break, without the risk.
Returned to school? 3 Ways to enjoy risk free coffee
1. Wash your hands regularly

If you're touching communal areas after the return to school, it's important to wash your hands regularly. This helps to stop the spread of the virus by preventing transmission through hands and surfaces. Alcohol based hand sanitiser has also been found to be effective against the virus and is a convenient way to clean your hands when you don't have access to a sink.
We offer a wide range of hand sanitiser solutions to keep your workplace safe, as well as masks and related items.
2. Use a stylus for a touch free experience
You may have used a stylus pen before to operate an interactive whiteboard at school. Stylus pens have a number of different uses and are great to use for the touch free operation of electronic equipment.
A stylus can be used to operate many touch screen coffee machines. Our Swiss-made Rex-Royal range has an interactive touch screen. It's easily operated using a stylus pen so you can eliminate the risk of contaminating your hands on communal appliances.
Having a stylus pen for each staff member is a great way to reduce infection risks. Clean your stylus pen regularly with disinfectant to keep it safe for use. We offer a range of stylus options for schools, explore our selection here.
3. Use a smart coffee machine for remote operation
Smart coffee machines are an excellent way to get staffroom coffee after the return to school, without ever having to touch the machine! This advanced technology can be operated remotely which means no concerns about school staff members touching communal equipment. It's another useful way to reduce infection risks and safeguard workers in the staffroom.
Our Coffetek selection of commercial coffee machines is British-made and has inbuilt Distance Selection technology. This allows you to select your coffee choice from a safe distance of two centimetres by simply waving your finger. It's great for maintaining hygiene in communal staffrooms and break rooms in schools.
Our Jura range comes with a JOE operating system which enables you to operate it remotely from a smart device or mobile phone. Simply download the app to your device and make your coffee choice on your phone, without touching the machine. It's a great solution for school staffrooms. Easily stay safe by avoiding contact with communal appliances.
Explore our full range of coffee machines here and subscribe to our blog below for more coffee news! Why not brush up on your coffee knowledge with these 10 coffee facts?