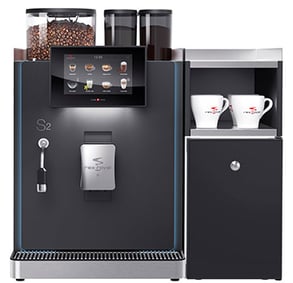 The Rex-Royal S2 reflects the best in top quality Swiss engineering. Rex-Royal have been established since 1937 and produce some of the best quality coffee machines on the market.
The S2 has been designed exclusively to meet the professional needs of a mid-sized company or work environment. It's great for medium sized offices, schools, break rooms, staffrooms and cafés. The compact and sleek design fits into any work environment with ease and is in keeping with modern office décor.
The S2 boasts a range of delicious drink choices such as cappuccino, latte, macchiato, espresso, ristretto, mocha, hot chocolate and hot milk. There's up to 24 different drink options available which gives you excellent variety, just when you need it.
Why is the Rex-Royal S2 such a great choice for businesses? Here's the low-down on its best features
The S2 effortlessly produces up to 150 cups per day and outputs 28 litres of hot water per hour, this is perfect for a mid-sized office. It can be operated using instant or fresh milk, for high quality and delicious tasting drinks that keep your workforce happy.
The Swiss-made inbuilt metal grinder and piston is top quality and built to last. Which means expert grinding of fresh coffee beans within the machine for an instant fresh coffee hit. What's more, the S2 is super reliable and won't let you down
Simultaneous operation
One of the many features of the S2 is its capability to complete two different tasks simultaneously. Simply put, you can make two different beverages at once!
It holds up to 16 grams of coffee at any one time. This enables a fresh coffee injection into delectable beverages throughout the day. It's a hassle free solution to harmonious workplace coffee that requires minimal supervision.
Touch screen
The 7 inch, video-capable touch screen is easy to use and makes operation simple for all. The versatile screen can be operated with the touch of a finger, by using the QR code functionality on your phone, or by using a stylus pen.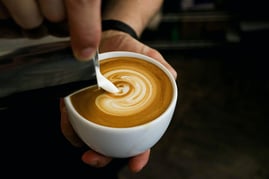 Innovative milk system
Milk within the S2 is cleverly converted into light and airy foam to give you professional barista standard coffee that will not disappoint!
The internal PowerSteam frother produces professional quality milk foam automatically. The S2 also gives you a steam wand option to froth the milk manually if desired.
Easy cleaning
The S2 has been specifically designed with convenience in mind. Everyone agrees that coffee machines can be labour intensive to clean, right?
The S2 has inbuilt rinsing and cleaning programmes to save you time and money. Rex-Royal cleaning programs meet all the HACCP cleaning guidelines.
Touch-free solution
Fancy a barista-quality coffee without the touch of a button? Just scan the QR code on the screen and order from your phone without having to download an app. You can even tailor each drink specifically for you by changing the coffee blend and strength to find that perfect office drink you have always wanted.
Optional additional features
The S2 comes with the option of many useful additional features. We advise to help you customise it to suit your business by choosing the right options for you.
Easily add payment systems, cup warmers and condiment dispensers. It's compatible with a range of different payment systems such as contactless, pay by phone and bar code scanners.
The Rex-Royal S2 can be customized with your own colours, logo and graphics. There's an innovative solution to suit any business and budget.
Are you interested in the modern features of the S2 for your workplace? Find more information here or contact a member of our team to discuss your requirements in more detail.
Getting machine-envy? Get in touch with a member of our team about how we can improve your current workplace coffee offer.