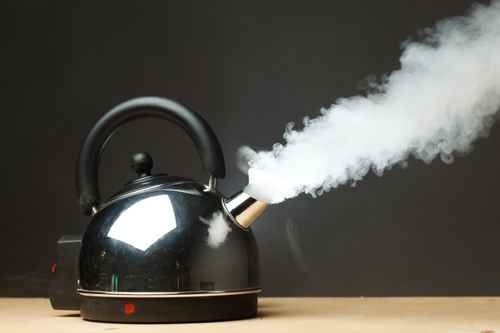 Since bean to cup machines emerged on the office scene, the debate between kettles and a fully automatic drinks solution has been a heated one. There are some businesses that consider a drinks machine to be an unnecessary luxury that doesn't pay any dividends, here we make the case for switching from kettle to an office coffee machine.
The kettle tax
Think that upgrading to a office coffee machine is simply a business expense that's not justifiable? Then you may need to re-consider. Why? Well that would be because of the so-called 'kettle tax'. A recent study discovered that each employee, on average, boils the kettle a staggering 759 times each and every year – which adds up when you realise that boiling a kettle costs £0.30p a time. After grinding the numbers down, the kettle tax amounts to £227.70 per year, per employee (Switch My Business).
Time – it's of the essence
Shocking financials indeed – yet with the boiling of a kettle comes another cost - the time taken out of hectic office schedules. Putting some figures to this, and presuming that an office is equipped with the speediest of kettles, the average boil takes 2.5 minutes (Which?), which produces 6 cups. For an office of 24 this would eat 10 minutes per tea round, per time. A study that has delved deeper into this has found that this equates to the average UK worker spending 24 minutes a day on the coffee run – which in turns equates to £400 a year (BBC) - and it's not even tax deductible (unlike that increasingly shiny looking drinks machine).
The under 30s – creatures of the coffee shop
The same research mentioned above, also discovered, that the under 30s typically run out to coffee chains to grab a drinks round. The issue to this is then two fold – the added lost time taken and the employee dissatisfaction at what they deem to be inadequate facilities. A drinks machine is a simple way in which employees can be made to feel valued (and when the number one reason for resignations is feeling underappreciated, this gesture can form part of a larger employee appreciation policy).
You overcome drinks round resistance
For those who work in an office, undertaking the drinks round is often seen as a soul-sapping chore. So tough a task is this to delegate, that offices throughout the UK must enforce dead set schedules, setting out whose turn it is at any given point in time.
A drinks machine cuts out the need for this much hated office chore (as well as the annoying habits of some who seem to over milk or under sugar!).
It's not all about the employees
You also have to consider customers and/or visitors – after all, the warmest of welcomes is best served up by a coffee machine, rather than a kettle. Of course the drink preferences are at play here too – allowing for drinks to be made exactly as the customer likes.
Made you thirsty?
There's more reasons than you may have imagined to invest in a drinks machine – all whilst serving up delicious coffees and teas that can seemingly brighten the dreariest of Monday mornings.
The question may not actually be whether you can afford an office drinks machine, but rather whether you can afford not to have one?
Find out just how affordable it can be - get in touch today!