Get your colleagues rushing into work early for an exceptional cup of coffee
We all know the difference that a great cup of coffee can make to a long day at work. In fact, recent research shows that an office coffee machine has the potential to transform your work environment. A simple cup of coffee can boost employee productivity, stimulate creativity and strengthen team bonds.
If you're looking for a high-quality coffee machine that will delight your colleagues and clients, you might be struggling to sort through the dizzying array of products on offer.
So which machine should you choose? Here's our expert roundup of the best office coffee machines for 2019.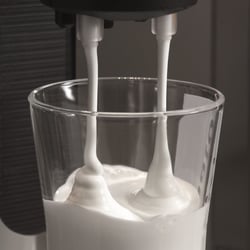 JURA office coffee machine range
A bean-to-cup coffee machine is the most authentic and complete method of brewing a perfect cup of coffee. The JURA X6, X8 and Giga X3c and Giga X8c machines handle every part of the coffee-making process. From grinding the finest beans to creating the perfect foam, JURA is an iconic brand that you can trust to deliver barista-quality coffee for your office.
Advantages of the Jura range
Up to 80 cups a day from the JURA X6 and X8 and up to 200 cups a day from the top-of-the-range Giga X8c.
Patented brewing technology including the Pulse Extraction Process which improves depth of flavour.
A wide variety of coffee types with over 32 individually programmed specialities from the Giga X8c.
An elegant and contemporary design perfect for a modern office space.
Rex-Royal office coffee machine range
If you need a coffee machine that can sustain a large office of employees, the Rex-Royal is an ideal choice. Without comprising on quality, these machines serve between 100 and 250 cups of coffee a day. Like the JURA range, these bean-to-cup coffee machines also cater to a wide variety of individual tastes and preferences.
Advantages of the Rex-Royal range
Built to last with Swiss-made, quality metal components including a patented metal brewer.
Up to three grinders, two different milk types and a 10.1" video compatible screen are just some of the features that come with the top of the range S500.
Easy to maintain with automatic rinsing and cleaning.
A highly popular and trusted choice for large office environments.
Bravilor office coffee machine range
Completing our list of the best office coffee machines of 2019 is the Bravilor range. These filter coffee machines are a simple and low-maintenance option to create great-tasting coffee for your office. Compact and modern, the Iso, Mondo and Novo can keep you refreshed wherever your work takes you.
Advantages of the Bravilor range
Easy to operate, with coffee brewed quickly and efficiently.
Most models do not use a mains water supply, making them highly flexible.
Keeps your coffee at an optimum temperature with self-regulated hot plates.
Robust and durable with a range of optional accessories to meet your office's needs.
How can I place an order for my favourite office coffee machine?
For over a decade and a half, Roast & Ground have been providing world-class coffee solutions to customers across the UK. Alongside our own range of freshly roasted coffees, we stock the coffee machines that we believe represent the very best that the industry has to offer.
If you're still unsure which office coffee machine would be right for you, we'd be happy to share our many years of experience with you. You can download our free coffee machine guide or get in touch by phone on 020 8397 8676 or by email at hello@roastandground.co.uk. We very much look forward to hearing from you!