Latte with sprinkles on top? And would you like an engineer with that?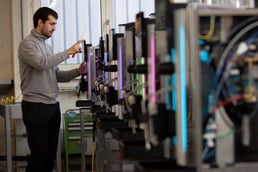 Office coffee is incredible. Research shows it boosts morale and creates a more positive work environment. But what if something goes wrong? What would happen then? Queue a dash (every hour) to Starbucks (costly). Hmph. This seems a good time to introduce our maintenance service.
This is how maintenance contracts should work
If your beverage conveyor grinds to halt, we'll be there within 6 hours within London (24 outside). And that doesn't mean just turning up. That means showing up and getting you back up and running there and then (we fix most issues on the same day). In some cases, we even have a spare machine on our vans, so you're never left without coffee!
Our maintenance service also includes changing your filters annually (though this could be more frequent, depending on how many brews you make a day).
And there's more! We want our office coffee to be enjoyed in top-top condition day in day out. If there's ever a problem, we are always on hand to check the espresso and give some guidance on cleaning and daily maintenance. Fancy a different coffee? No problem! We'll visit and set up your machine to your new beans. It's all part of the service.
Should you decide not to opt for maintenance, heed our warning – even the highest-end, most advanced of office coffee machines will run into issues if not maintained properly (so clean it regularly and descale if it's a tank-fed machine).
Yet to choose your office coffee supplier?
Here's a quick-fire round-up of what an excellent office coffee supplier should provide…
Deliciously fresh coffee (of course)
Transparency
Superstar customer service
Fairness
Honesty
Flexible ordering
In-house engineers
Fast breakdown response times
If you want to read about these in detail, check out our blog on what a solid office coffee partner should provide.
Still mulling over your machine options?
Read our thoughts on what you should be thinking about, and download our Guide which answers all the questions you might have before picking the perfect machine.
Keep your 9-to-5 running smoothly. Talk to our team about our coffee machines and maintenance contracts today.
020 8397 8676
hello@roastandground.co.uk