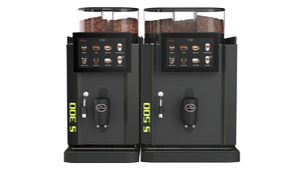 Around a year ago the newest Rex-Royal S500 joined our line-up of coffee machine options. Serving up everything from creamy lattes to refreshing frappes, Rex-Royals have always been known for their dizzying array of options, with many choices to make your machine your own.
Made to your exacting specifications, both the S500 and S300 are real crowd pleasers, and now Rex-Royal have added another colour to its collection - brand-new stylish black (in addition to the classic chrome).
But before we do the big reveal, we should really re-cap all that these machines have to offer the busy office.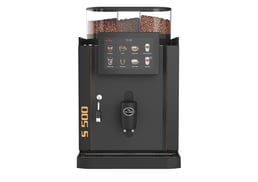 Rex-Royal – All Hail the King of the Coffee Machine Realm
If you weren't aware, Rex-Royal is the king of all coffee machines (we provided ten reasons why in this blog: Rex-Royal – Ten reasons why this bean-to-cup brand is king of all coffee machines). And if you missed our announcement blog of the new S500 (and are too pushed for time to read it now), here's the low-down…
Rex-Royal demonstrates the best of Swiss-made engineering
They feature an easy-to-navigate, multi-function TouchScreen
Rex-Royal machines are found in offices, hotels and on trains all across the world
The metal pistons make for a perfect crema
Its quality components are built to last
The metal casing keeps your machine looking shiny and brand-new
Rex-Royal machines are seriously stylish
Rex-Royal began in the catering market – so they've always focused on exceptional quality, high-volume solutions
Things go fully automotive with the steam wand option
Medium to large volume dispense options
But the most compelling benefit is yet to come…
Rex-Royal machines are built to suit your needs. With a Rex-Royal machine from Roast & Ground you can choose:
The number of grinders (1, 2 or 3) – for up to three different coffees at any one point in time (one regular and one decaff being the most common)
Fresh and/or granular milk
Instant options – ie chocolate
Steam wand or not
Choice of touchscreen size
Cup size, coffee strength
7 different coffee beans
Daily/Weekly/Monthly cleaning service
And now, with the new black style, not only do you have endless options for customising your Rex-Royal to your taste, you can now also pick your style.
Rex-Royals can also be completely personalised from top to bottom for large volume orders.
In a hurry?
Last machine ground to a halt or suffered a catastrophic fall during a relocation? We usually keep several Rex-Royal machines in stock, so our customers never go without quality coffee even an hour longer than necessary.
Ready for a Rex Royal – made your way?
Go ahead – take a peak or talk with our team about your many (many) options.
Learn more: Rex-Royal S500 | Rex-Royal S300