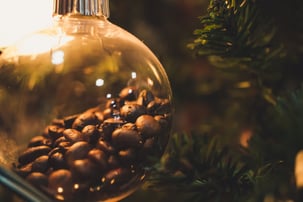 It seems just five minutes ago that we were tapping out our guide for picking a new coffee supplier in time for the new year. And now here we are, suddenly at the end of 2019.
How did that happen?
And it's not just any old New Year, either – it's the start of a new decade. But between then and now, there's the little matter of Christmas to enjoy. And in honour of the 12 days of Christmas, we wanted to enlighten you with 12 incredible coffee facts that you almost certainly didn't know….
New Yorkers LOVE their coffee, drinking almost 7x more than other city dwellers in the US.
In Italy, espresso is regulated by the government as it's considered an essential part of daily life.
Coffee beans are actually the pit of a berry. That makes them a fruit. But sadly, they don't count as one of your five a day.
In Italy the average Barista is 48 years old, and it's a highly respected profession.
The word 'coffee' comes from the Arabic word 'qahhwat al-bun' – 'wine of the bean'.
The first webcam was invented by The University of Cambridge. It's role? To watch a coffee pot. That way people would know whether coffee was ready and waiting to be poured.
Beethoven loved his coffee, and was extremely picky about how it was prepared, insisting that each cup he consumed be made with exactly 60 beans.
Kopi Luwak, the world's most expensive coffee, comes from animal poop – the poop of an Asian palm civet, to be precise (which is a small critter that shares similarities to the weasel).
It would take 70 cups of coffee to kill a 150-pound person.
One day coffee might power your car - researchers have already had great success in converting coffee into bio-diesel.
Irish coffee was invented to warm up cold American plane passengers leaving Ireland.
And lastly, Teddy Roosevelt is and was the greatest American coffee drinker, necking up to a gallon a day.
2019 was a vintage year for us – here's our roundup…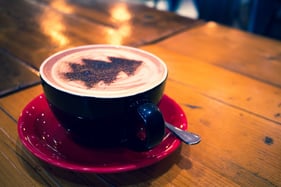 Boy was 2019 a busy year for us. Here's a quick summary of everything we achieved…
Our coffee machines made around 25,000 cups of great coffee, every single day
We welcomed five new team members – Derek, Deena, James, Luther and Paula
We started selling our Rex-Royal coffee machines with the new and improved multi-media large screen, as well as the sleek and stylish Rex-Royal machines in black
We introduced 'Coffetek' – a brand new machine range using granular milk
We added a lineup of new services – including boiler pressure checks, espresso checks and quarterly deep cleans
Our team attended the Facilities Show at Excel with the IWFM
We redesigned our website and launched our spanking new shop to deliver even more convenience and time-savings for our customers, as well as the shop featuring new products – such as plant-kind tea jars and non-dairy options
We started selling a reinvention of the water dispenser, with the oh-so slick Brita Vivreau tap
All of which wouldn't have been possible without you – our loyal customers – so thank you.
We're looking forward to a well-earned break with family and friends, and we'll return for 2020 refreshed and ready for more of the same. Here's to another year of delighting our customers.
We'll be serving up deliciousness all the way until December 24th and we'll be on hand on working days throughout the festive period.
Merry Christmas and Happy New Year one and all, we hope you have a fabulous festive break.