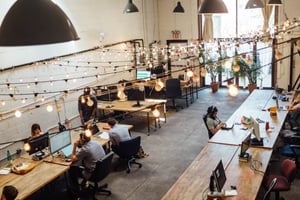 If you regularly check back to our blog, you'll know that office coffee is capable of the incredible.
Like boosting business productivity and worker health. Like encouraging colleague interaction and even protecting the brain against the effects of stress. Impressive stuff indeed. So it's safe to say that making the right choice of machine is a pretty important task. One which we're more than happy to help with. Let's begin…
Nine things to consider when picking a machine to brew your perfect cup
1. Time to take a head count
Is your team small or large? How many cups of coffee do you and your colleagues have per day? This is the very first factor that will dictate which machines will be suitable for your office (Get in touch and we'll advise you on the ideal size and type of machine for your office).
Read up – If your office is home to more than 100 employees, head over to our must-read guide: How To Make Great Coffee For A Large Office.
2. Location, location, location
A machine in a breakout area will quickly become a favourite meeting place. But a noisy machine smack bang in the middle of the office? Well, that's a fast-fire route to distraction and plummeting productivity. You'll also need to consider dimensions and existing facilities in the area, such as water supply.
Read up – Buying an office coffee machine for the staff room? We've got just the thing - a blog guide to the Best Coffee Machines for Staff Rooms. Or if you're buying for your meeting room, grab a coffee, take a seat and read: Good coffee? Great meeting - Coffee machines for meeting rooms.
3. What's on your menu?
We live in a world of infinite choices and coffee machine menus are no different. Today's clever coffee machines can whip up the café classics, like cappuccinos, flat whites and even layered latte macchiatos. Then of course you need to consider your tea drinkers, others who prefer green tea and those who won't sip anything else but a soothing hot chocolate.
Perhaps you'd like to offer your staff dietary options alongside regular choices - like low-sugar options, non-dairy, chocolates with different levels of cocoa and decaf choices.
Sound confusing? There's lots of different solutions to help you meet all your needs, and we can give you that guidance.
4. How'd you like your milk?
If you're keen on fresh milk, you'll have to factor in regular supplies and refrigeration, both of which Roast & Ground provide. But we'd also stress that today's granular milks are a world away from the less than desirable old-style powered milks – it is simply skimmed milk, with nothing added.
Read up – Another potentially life-saving factor to add into the mix is whether you need to consider workers with allergies. If so, you should start here, with our guide to being allergen aware.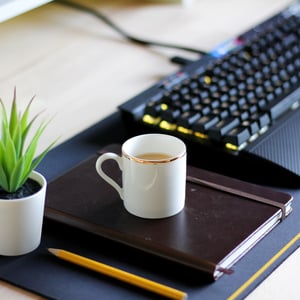 5. Make planet-friendly choices with everything from your beans to your cups
Bean-to-Cup, filter or capsule? Using fresh coffee beans and filter coffee is the best option for keeping waste down, and there are even companies like Bio-Bean who can collect and recycle your used coffee grouts.
On the flip side, capsules create piles of excess (plastic) waste, which is usually non-reusable and non-recyclable.
More and more offices are now making the switch from capsule and pod machines to a more environmentally-friendly bean or filter solution.
Read up – Compostable or Reusable? Which Coffee Cups? | Laying the Groundwork for a Greener Tomorrow – Recycling with bio-bean.
6. Slick and sleek, the aesthetics of today's coffee machines are something to admire
Certain coffee machines are completely customisable, providing choices for RGB lighting, media screens, colour options and much, much more.
And for those who prefer something a little more understated, there are models made for compactness, neutral colours and minimal noise (the latter of which is an especially important point if the machine will be placed within the working environment of your office).
7. Keeping your coffee machine up and running
Picture the scene – you returned after the long Christmas break, it's the first Monday of the new year. You hit the button on the coffee machine at 8:30am sharp. Then, nothing. Suffering an office coffee machine malfunction can hit productivity and energy levels hard. Which is why any good supplier should offer regular servicing by trained engineers and an emergency breakdown service, to ensure you're never without your machine for long.
You should also become acquainted with the in-house maintenance tasks that'll keep your machine in tip-top form – such as cleaning the machine (look out for the pre-set cleaning programmes when researching office coffee machines).
Also bear in mind that some machines require manual filling, while others use mains water. You could also opt for a daily or weekly hygiene service.
Read up – For other things that any good office coffee supplier will do, read our blog: New Year, New Coffee Supplier.
8. Looking to the future
Contracts with drink providers tend to run for between three to five years. So tell me, what will your staffing levels look like by then? Do you have plans in the works for making the move to another office building? How about expanding your team?
The future can be difficult to predict, but when choosing a machine, you need to make sure it'll still meet your needs in five years.
9. And finally – we need to talk about money.
Your coffee machine will be used day in day out, it will be a piece of precision engineering, and without question, you should think of it as an investment. But that doesn't have to mean a huge outgoing and an outright purchase (alternative options include leasing or renting).
If you do decide to buy, your finance department may well be able to treat your coffee machine as an asset, enabling it to depreciate over time (which bags you a saving on the balance sheet).
Read up – Get the low-down on your options when it comes to financing your coffee machine: Commercial Coffee Machines – Lease, Lease Purchase, or Buy?

More questions? Need a little extra guidance to pick the perfect machine for your needs? Get in touch at sales@roastandground.co.uk and why not Download our step-by-step eGuide