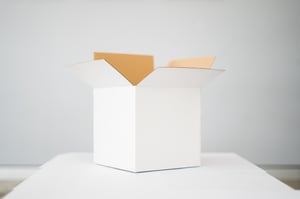 You're planning a move and counting down to the big day. There are removals to book, equipment to account for, and customers to tell. Safe to say that you'll be fuelling the move with caffeine – LOTS of caffeine.
While the kettle and coffee shop will have to do during move day, what will you do from here on in?
For those soon to move, our team have whipped up six tips for getting the drinks flowing after your arrival.
1. Plan WELL in advance – this will make the logistics of the machine fitting all the easier
Planning ahead means that your office fit-out can take into account the plumbing, waste and space requirements for your office coffee machine. These ALWAYS feature in machines that are designed to serve 100+ people with 150 or more drinks a day.
Read on: Bean to Cup Coffee Machines: The Office Coffee Solution
2. Seek out expert advice for picking the right equipment
A good office coffee supplier will provide advice as to the machine that's right for your working environment and the workers themselves. For them, it's not about price point or profit margins on consumables. And they'll always, ALWAYS make sure you're fully informed. No pressure. No sales patter. Which is exactly why we created this guide…
Read on: Office Coffee Machine? Here's How to Choose One
3. Drinks choice – Take your pick
Tea, coffee, herbal tea, hot choc, cold drinks, decaff, Half-Caff (the list goes on – and on).
The drink possibilities for your workers grow by the day. Bean to cup machines can feature between one to three grinders, so you've got lots of bean choice. There's also the option of instant drinks and whether to opt for fresh milk, granular milk, or both.
Read on: Three pointers for picking the perfect office coffee
4. To lease or to purchase?
Leasing – easy on the cash flow, tax benefits, no worries about recycling the machine at the end of its life.
Purchasing – pay less over the course of its life.
It's a tough call. Let us know if you need to talk about it.
Read on: Commercial Coffee Machines – Lease, Lease Purchase, or Buy?
5. Choose a supplier who will work WITH you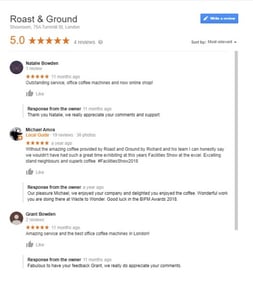 The range of office coffee machines of your chosen supplier is undoubtedly important. As is the stock of coffee. The choice of consumables. The pricing, too. But beyond this there MUST be a team who is ALWAYS happy to help (we'll just leave this here).
Read on: New Year, New Coffee Supplier
6. Don't forget maintenance and breakdown
Avoid a hasty dash to Costa on a rainy Thursday afternoon following an impromptu machine break down. Invest in suitable maintenance and breakdown cover and an engineer will be with you within hours.
Read on: Even the best coffee machines need maintenance. This is why...
Soon to make a commercial move? Let us lighten the load with good advice and great office coffee. We can advise you on drinks options, the choice between leasing and purchasing, how to pick the right office coffee machine and more. Let's talk.
hello@roastandground.co.uk | 020 8397 8676